My wife and I attended a presentation arranged by Custom Trips, Pasco, WA and delivered by Mr. Cameron of Sun Travel Systems in Embassy Suites Hotel, Portland, OR on the May 27, 2010.
Sun Travel Systems presentation
Presenter – Mr. Cameron (Never provided last name, never presented business card). Brief Bio (as narrated by him): Has worked as a travel agent all his career. When discount internet sites started encroaching on traditional travel agent's business he sold his business and joined Sun Travel Systems five and three quarter years ago.
Sun Travel Systems – Company Info – (as narrated by the presenter during presentation): has been in business for last 21 years. $127 million revenue. 400 travel agents provide travel services from offices in Kissimmee, Florida and Tucson, Arizona (never mentioned office in any other location). Presenter compared STS's business model to Costco Wholesale, where the company buys travel services in bulk directly from source (hotel nights, flight tickets, resort reservations etc) and makes them available for the members at highly discounted prices, cutting out middlemen and commissions. All the travel agents are salaried and get no commission, and hence have no incentive to up-sell, hence better customer satisfaction (as claimed by presenter). During the presentation it was emphasized multiple times, that there is a 3-business-day cancellation policy, and First American Title Insurance Company will act as an escrow agent for the transaction and we'll write a check to (or the credit card will be charged by) First American Title.
Following the presentation we asked the agent who talked to us (Joe, did not provide last name) that we would like to avail the 3-day cancellation policy, get a quote for a vacation we were already planning in December 2010, and if the quote is very competitive as the company claims, we'll keep our membership, else we'll cancel it. The agent said, we could not get a quote right then as the Sun Travel's reservation office in Kissimmee, FL are already closed (9:30pm ET), but he promised us that somebody from STS Member Services will contact us first thing in the morning and we'll get a quote.
The 3-day cancellation policy and the escrow arrangement with First American Title made us feel comfortable signing up for membership with an unknown company. We decided to buy the membership from Sun Travel Systems and charged $6689.00 on American Express card for the same. We signed a contract and received a member kit (a folder with brochure, and loose leaflets with additional information, plus a copy of all the papers we signed.)
My experience dealing with Sun Travel Systems after signing up for membership
On Friday May 28, 2010 I called Sun Travel Systems at 9am ET, which is listed as start of business hours in all their documentation (Member kit, website etc.) and several times for next hour after that, and could never talk to any agent or live person. I always got a recorded message with three options: Press 1 for operator, 2 for member services, and 3 for reservations, pressing any option would prompt to leave a message after playing hold music for a few seconds. Finally at 10am ET on May 28, 2010, I got hold of a live person who announced herself to be from reservations (when I had pressed option 2 to reach member services). She informed me that there is no one available from member services to talk to me and asked me to leave a message. I refused to leave a message and insisted to talk to an agent. The person told me she'll get somebody to call me immediately.
At this point I was convinced that there was something suspicious about this company. The company information provided at the presentation did not match the actual experience I got trying to reach member services. Therefore I decided to cancel my membership. According to the membership contract I signed on May 27, 2010, I could cancel my membership withing first 3 business days and get a refund. I called Sun Travel Systems again at 10:14am ET, and talked to the same person I talked before and asked her what is the procedure to cancel the membership. She asked me to send an email to
member@suntravelsystems.com
and that will take care of everything. I immediately sent a mail to that email address. I did not receive any response from Sun Travel Systems for next several hours. Therefore I decided to call them again at around 4:50pm ET to find out what is going on. I again talked to the same person, I was surprised that I call a company with 400 agents and every time I talked to the same person, so I casually inquired why this is so, and the person informed me she works in a private office and the agents do not have inbound call facility and she has no ability to transfer calls to member services. I thought that was strange. I implored her to get somebody from member services to call me back. At 5:30pm ET, I received a call from somebody (Caller ID showed 'Sun T' 407-953-0502) claiming to be from Sun Travel Systems (I could not get the name of the person). He asked why I wanted to cancel my membership and tried to sell me other cheaper service options. I declined and asked him to cancel my membership. He said I can cancel my membership and get full refund. I asked him for the procedure to cancel my membership. He asked me to send a fax to 714-361-3582 with a letter to request cancellation. He claimed that this fax number belongs to First American Title Insurance Company, Maitland Center Parkway, Suite 201, Maitland, FL 32751. I asked him to provide me a phone number for First American's office, so that after I send the fax I can confirm that they have received it. He provided me 407-754-1325 as phone number for First American's Maitland office. I also asked him where and how to send the member kit back to Sun Travel Systems (as is mentioned in the contract), and he told me that that won't be necessary. I told him that the contract states that Sun Travel Systems will charge me $350 if the member kit is not returned, and he said they won't charge for the member kit even after canceling the membership. I called 407-754-1352 and talked to a lady and informed her that I'm faxing my cancellation request. She said the office is closing soon but somebody will take care of the cancellation request on next business day which is June 1
st
, 2010. I typed a letter requesting to cancel my membership and faxed it to the above number.
Following is the list of issues that have deepened my suspicion about Sun Travel Systems
Copy of the presentation was not provided in the member kit. The brochure in member kit or the company website (

http://www.suntravelsystems.com

) doesn't have any of the facts/figures presented in the presentation.

'whois' report for the company domain name (

www.suntravelsystems.com

) shows that the domain was created on September 5, 2008. It is rather difficult to believe that a company that has existed for last 21 years and has $127 million in revenue would not have website as recently as September 2008.

The phone number listed on First American's website (

http://www.firstam.com

) under the company directory for their Maitland, FL office is 407-475-0844, which is different from what the agent from Sun Travel Systems provided me (407-754-1325 ).

When I called 407-754-1325 (the number STS's agents provided as First American's number), the person who answered did not announce the name of company (First American Title).

American Express online statement shows that the card was charged by '1ST AM-SUNTRIPS USD KISSIMMEE' located at 6919, Franklin Rd, Pasco, WA 99301. The company name (except for the prefix '1st AM-') and the address is completely different from the credit card slip I signed.

The above Pasco, WA address looks like a farm house from Google maps.

Google StreetView reveals that there is a small strip mall at the address listed as office address (830 N John Young Parkway, Suite 856, Kissimmee, FL 34741). It's difficult to believe that such a location can hold even 100 agents.

Internet search reveals that

the fax number listed in the member contract for First American Title Insurance Company's Maitland, FL office (714-361-3582) is from Santa Ana, CA.

the phone number that was provided by STS's agent as First American's (407-754-1325), is listed in Winter Park, FL not Maitland, FL where the office is located.

During the presentation two office locations were mentioned: Kissimmee, FL and Tucson, AZ. But there is no mention of Arizona location anywhere on the website or the member kit.
Update:
December 26, 2010
: So far two random folks over Internet contacted me stating similar experience but with different company names. First was from Joe in Cleveland, OH, with Endless Travel. Another was today, from Paul (did not mention location), with same company name Endless Travel. Paul also found that this company is also known by other names like Serenity Vacations, Sky Travel, Travel-to-Go and JD & T Enterprises. Both Paul and Joe wanted to know whether I got my money back. Yes, I did.  I got full refund. The phone numbers and fax numbers listed in the 'agreement' for 1st American Title were wrong. I had to go to 
firstam.com
 website and find the real phone number of the office and get their fax number. Then after I faxed my cancellation request to First American I called them again to verify that they got my request and will be processing the refund. The money indeed was charged by First American in my case and was in escrow for a period of 3 days.
Attachments:
Member Contract I signed with STS. First two pages. Total payment made on page 1, and terms for rescission on page 2.
Fax Transmittal report of the fax sent to First American Title Company to cancel membership as per member contract.
Print out of email sent to Sun Travel Systems requesting membership cancellation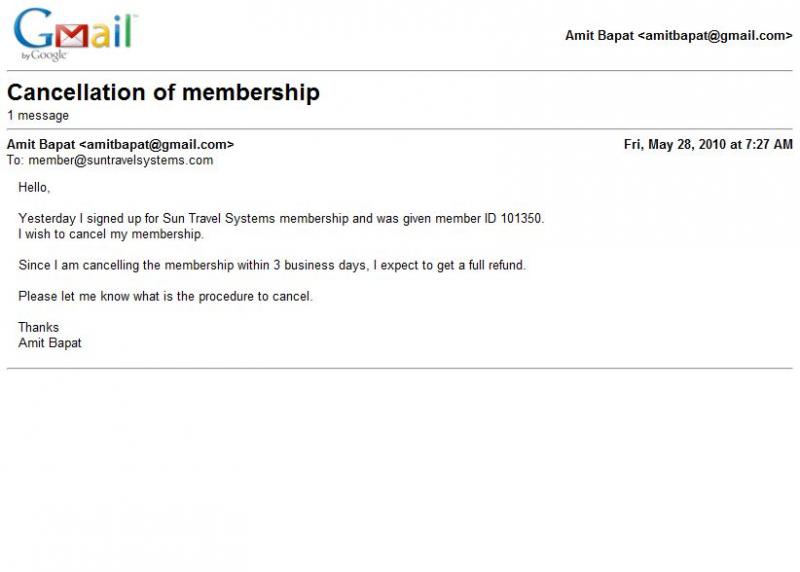 Google StreetView photo of the STS office address
Google maps photo of STS's Pasco, WA address which appears on credit card statement